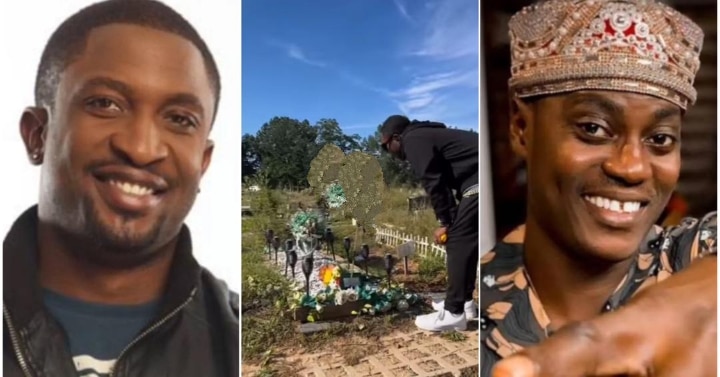 A video from Nigerian singer Darey Art Alade's visit to late Sound Sultan's grave has stirred emotions online.
Dare Art Alade, the renowned Nigerian singer-songwriter, shared an emotional moment as he visited the grave of his late colleague, Sound Sultan.
In a video posted on Instagram, Darey can be seen placing flowers at the burial site and breaking down in tears.
He expressed his regret for not being able to visit sooner and asked for Sound Sultan's spirit to forgive him.
In a heartfelt message accompanying the video, Darey wrote,
"Lanre, since your sudden departure, I've only just been able to visit your gravesite. Ma binu. You know how these things go. Farida and the kids miss you much. We all do in our own various ways."
He expressed his regret at not being able to pay his respects earlier and acknowledged the impact Sound Sultan's absence has had on their lives.
Despite the challenges faced since Sound Sultan's passing, Dare expressed gratitude and praised God.
@thefoodnetworknig2 said: "Sultan & Moh… Earth's loss, Heaven's gain!"
@glam_by_adufe commented: "Can he read on instagram."
@frefvik_ said: "Watch how Umu Ogwugwu Oge will come and attack him now."
@_bigspence said: "I no understand."
@deebillz001 said: "Una don Dey carry camera and ring light go people graveyard this days. Nawa o."
@momentswithreefah reacted: "Na wa oo…una no fit drop phone and just live life…sigh!"
@ferdinardpo said: "People are free to choose how they remember those special to them. If you do yours privately and another does his publicly it changes nothing the dead individual wouldn't see or feel either. However, a public show of remembrance of a special person may trigger some emotion beyond that of the person expressing the remembrance especially of a public figure. Even when you go to church for remembrance or hold family gathering it is the same whichever way."
Watch the video below: