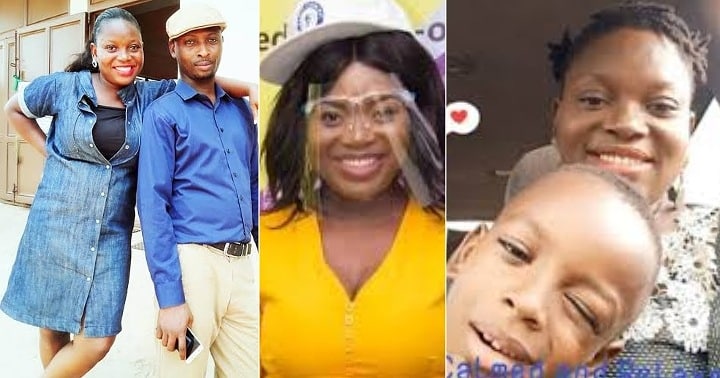 The father of viral little 'mummy calm down' boy has finally spoken up following his wife's unexpected demise.
The young man however gave a different account of his wife's tragic demise compared to what their neighbors have reported.
The incident, which occurred in Benin City, Edo State, has raised questions about the circumstances leading to her death.
According to Lawal, upon returning from the market, he allegedly found their two-year-old child crying. He rushed into the house and discovered his wife hanging from a rope tied to the ceiling. Acting swiftly, he loosened the rope and called for help from their neighbors.
He said that the neighbors arrived and assisted him in removing the rope from his wife's neck.
However, the neighbors have contradicted Lawal's account. They claim that when they responded to his cries for help, they found him lying on top of his wife, with no mention of a rope being involved. This conflicting testimony has added further complexity to the investigation.
Recall that Toluige Olokobi Babalola, is the woman who, along with her son, gained internet fame in 2021 after a viral video showed the little boy pleading with her saying "Be calming down and rest a little".
The shocking news of her death emerged this week when a user on Twitter revealed that Toluige committed suicide in Benin, Edo State, for reasons yet to be determined.
Following the conflicting accounts, the Edo State Police Command has initiated a thorough investigation into the circumstances surrounding Toluige's untimely death.
The Police Public Relations Officer, Chidi Nwabuzor, confirmed that the Commissioner of Police, Muhammed Dankwara, has ordered the transfer of the case to the State Criminal Investigation Department (SCID) for further examination.
The police have recovered the rope and a purported suicide note, allegedly written by Toluige. However, upon inspecting the deceased's body, no signs of violence were found, leaving investigators puzzled.
The absence of physical evidence has intensified the need for a comprehensive investigation to determine the truth behind Toluige's tragic demise.