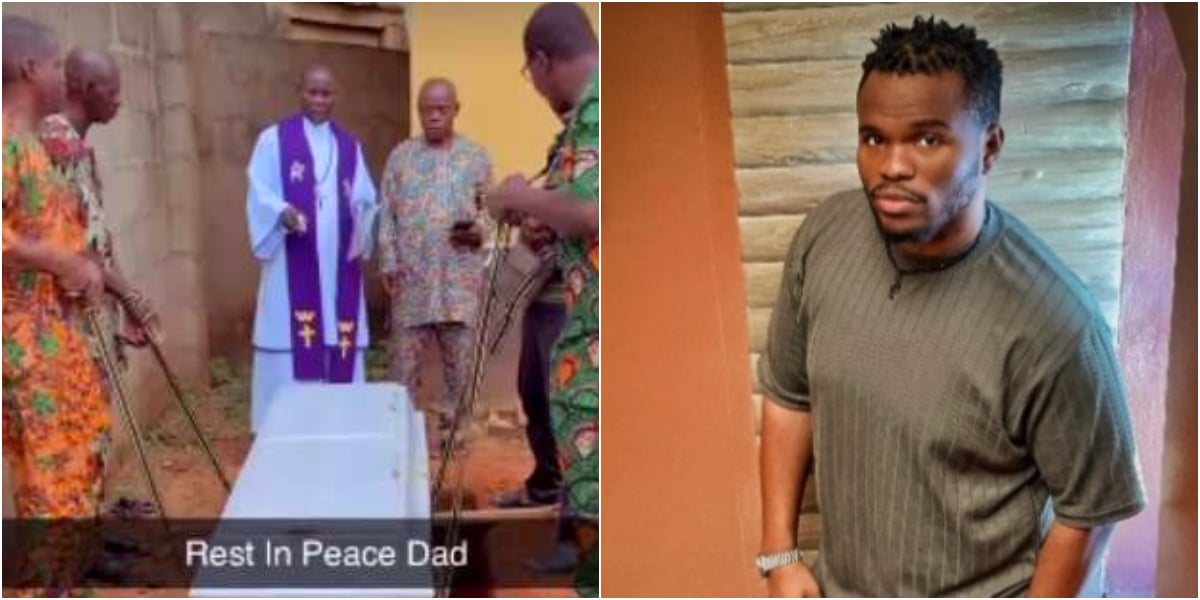 Tosin "Silverdam" Damolekun, a Nigerian blogger, has expressed guilt over intentionally missing the calls of his father until his demise.
The media personality's elderly father passed away after a long illness, leaving him devastated.
The blogger posted a video of his father's coffin being gradually lowered into the grave while a preacher prayed over it on his official Instagram page.
He posted a video of some men carrying the casket to the pit they had excavated for it in another post.
Tosin Silverdam revealed the circumstances surrounding his father's passing. He said that his father's ulcer caused his death.
In a later piece, the blogger revealed that he sobbed when he had to dump sand on his father's coffin because it dawned on him at that moment that he was never coming back.
Just two days before his death, Tosin claimed to have spoken with his father and even had plans to visit them and give them groceries and a deep freezer he had purchased for his mother.
The socialite revealed that the day before his death, he had even purchased medicine for his father and was purposefully ignoring his calls because he knew he wanted to express his gratitude.
He wrote, "That feeling when they are burying your father and you have to pour sand on his grave. I Cried, Like I Cried. That was when it dawned on me."
"The Man I Still Spoke To 2 Days Before, Planning To Go Give Them Food Stuff And The Deep Freezer I Bought For My Mum. | Still Sent Money For Drugs A Day Before He Died. He Called Me To Thank Me But I Purposely Missed His Call With The Hope To Call Him Later Because I Knew He Just Wanted To Thank Me. It is well."