"Is your crush around" – Reactions as girl goes on free 1 minute shopping spree, sluggishly picks items
A video shared by user @obinkrandaily showcases an unconventional one-minute shopping spree at Mr. Price in Westhills Mall that captured the attention of netizens and left them both surprised and amused.
The video featured a young girl who, instead of rushing through the store in a frantic frenzy, took a leisurely and relaxed approach to the shopping event.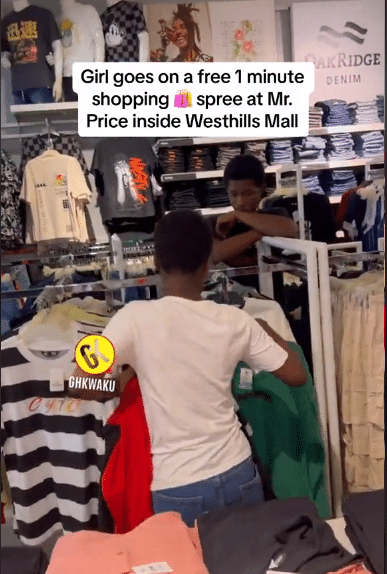 The one-minute shopping spree, a common promotional event in many retail stores, typically sees participants dashing through the aisles, filling their carts with as many items as possible within the allotted time.
However, this particular video defied those expectations as the young girl meandered through the store, seemingly unfazed by the ticking clock.
In the video, the girl strolled casually through the store's clothing and merchandise sections, carefully selecting items and placing them in her cart with a calm and composed demeanor.
Her unhurried pace stood in stark contrast to the fast-paced and often frantic nature of such shopping sprees, leaving viewers both perplexed and amused.
Netizens Reactions…
@ I J commented: "The girl just dey annoy person."
@KANAYO. O. KANAYO said; "This girl paaa how I wish It was me within 3 seconds the store is empty."
@Ohene Kyei Akomea said; "They are letting dada Bees to do this free shopping spree allow we Aunty ba and you go stop that nonsense."
@sherilla nails lounge said: "Instead of you to hang the bag and keep picking you went to put it down to go back."
@CindyRhois said; "I think her crush was around."
@user alishazuria reacted; "What is wrong with this girl,why is she wasting time."
@mikaylaforson4 said: "Y was she go back to put the items down dat was a waste of full 30 seconds."
@Abeveesfabrics said: "She wasn't ready for the assignment."
See below;