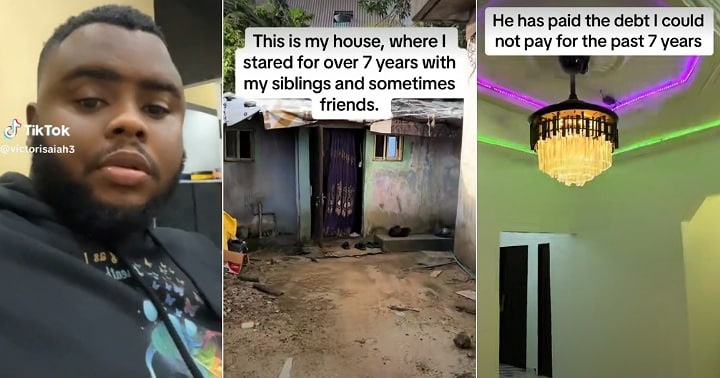 A Nigerian man has shared his excitement on social media as he flaunts the transformation of his family's house after seven years.
In a heartfelt TikTok video, the user @victorisaiah3 opened up about his living conditions in a shabby apartment where he resided for over 7 years with his siblings and sometimes friends.
He shared that during this time, he worked diligently and prayed fervently for God to see him through. The video showcased the modest living space, highlighting the challenges he faced.
In the caption accompanying the video, Victor expressed his gratitude to God, acknowledging that His grace had transformed his life.
He shared that God had paid off the debt he had accumulated over the past 7 years, signifying a significant breakthrough in his journey.
He wrote; "This is my house, where I stayed for over 7 years with my siblings and sometimes friends. Working and praying everyday for God to see me through. And now, he's Grace is all over. He has paid the debt I could not pay for the past 7 years. l am grateful Lord. We pray for more Grace Lord."
@Rejoicekiss reacted: "My parents are still livin in a rented public yard without toilet y till now, God please change my brothers story to glory."
@virginity reacted: "Even the old house still fine."
@Cyndi commented: "God when? GaI wan wipe my mama tears."
@Mimi commented: "What about my mum still leaving in a mud house up till now, I pray God remembers my family."
@Racheal said: "Story of my life, that your old house use to be my dream house but today God has proven himself.i dey cry when i remember my past."
@angieblaze22 said: "I tap into this blessing again and again, i slept in my shop for 8 years to build my own house, just when i was about to live in it, it got demolished."
See the video below: