A group of young Nigerian students has captured the attention of the online community with their remarkable robot car project.
The awe-inspiring video, which has since gone viral on TikTok, showcases their ingenuity and dedication to creating something extraordinary.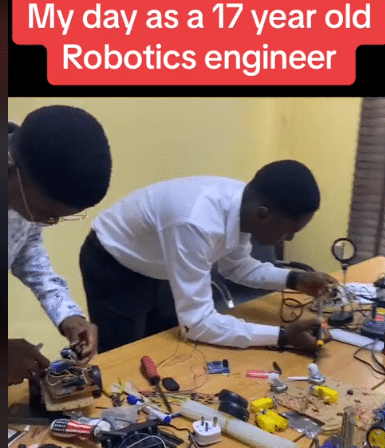 The viral video, which has garnered widespread admiration and appreciation, features a robot car built entirely from scratch using locally available materials and electronic components.
What sets this robot car apart from ordinary toy cars is its exceptional functionality and versatility.
The video demonstrates the robot car's ability to smoothly navigate various terrains.
The robot car is not confined to a single direction; it can rotate a full 360 degrees, a feat rarely seen in toy vehicles.
Moreover, it exhibits an impressive speed that far surpasses traditional toy cars, showcasing the extent of its technical sophistication.
Netizens Reactions…
@cyberwarrior said; "You're going place bruh."
@code101 said; "Good job mann keep going."
@praisedaniel said; "I love your work."
@ola said; "This really great.
@vinh pedro said; "Bossoooo, You're really a role model."ù
@King Mufex reacted; "How long did this take."
See below;