A Nigerian lady , identified as @skyangelsophia2, broke down in tears after discovering a mouthwatering credit alert of N2 million in her bank account.
The touching video has since gone viral, garnering an outpouring of support and well-wishes for the overwhelmed recipient.
The emotional woman, whose real name is Sophia, is seen crying uncontrollably while displaying a screenshot of the bank alert that revealed the generous gift.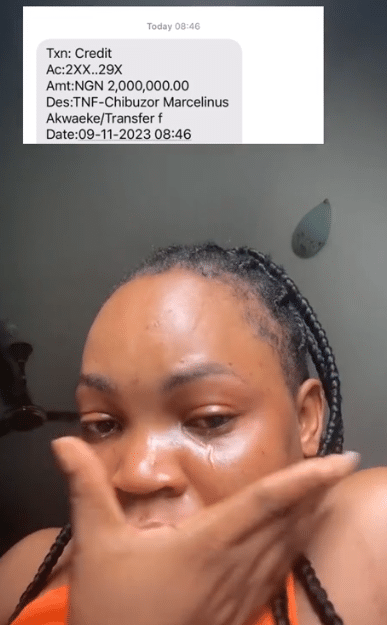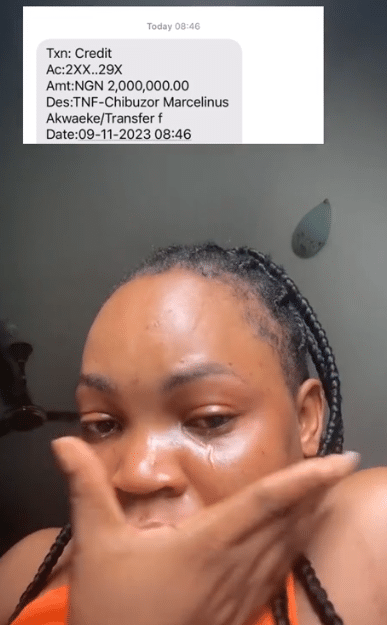 The video, shared on her TikTok account, quickly gained traction, eliciting empathy and admiration from viewers who were moved by the sincerity of Sophia's emotions.
A screenshot shared via Sophia's TikTok account revealed a bank alert of N2 million.
The nature of the gift and the identity of the generous benefactor remain undisclosed, leaving room for speculation and curiosity among those who have followed the viral video.
Netizens Reactions…
@napoleon_success said; "2 million nah small money but nah also big money. It all depends on your project."
@saragh said; "Rich man pikin won't understand the tears. I tap into your grace sis."
@everchukwunecherem85 wrote; "God do it for my school fees ooo. Don't leave me stranded."
@barnabasrichie reacted; "I always celebrate in silence because some people don't want ur success and good because you no supposed to post screenshot for safe."
@chiomavincent53 said; "My prayer point all this while. For me to see dis now means mine is very close to me. Congratulations dearest."
@prettyfave31 said; "This is the exact money am looking for right now and is very urgent how can I get it."
See below;