"She said a lot" – Cute Abiola visits Mohbad's mother, shares encounter in emotional video
Popular skit maker and actor, Cute Abiola paid a condolence visit to the mother of late Afrobeats singer Mohbad and gave an account of the emotional encounter.
Nigerian talented singer, Mohbad passed on on the 12th of September, and the cause of his death has continued to raise dust.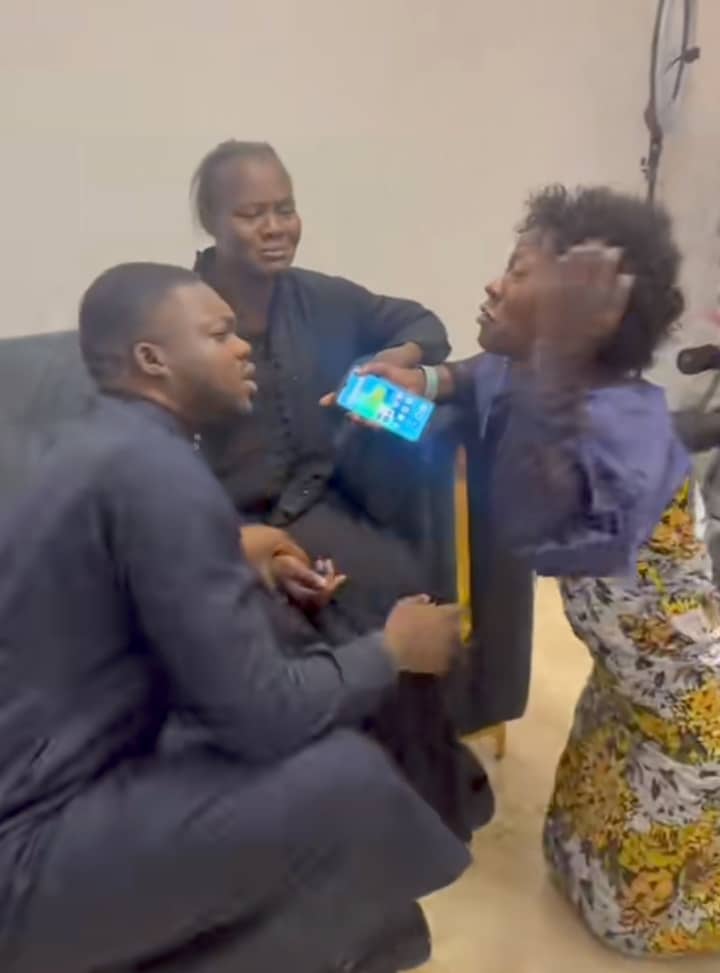 Cute Abiola who paid a visit to the bereaved mother revealed that she and her husband haven't been together for 15 years.
In his account, he revealed that he sought to bring them together to fight for justice over the demise of their children.
He noted that Mohbad's father is weak and scared, and that explains some of the statements he has been making to the public.
Cute Abiola wrote …
"If we really want justice, mohbad dad and mum needs to come together to be one on this matter !. I met the mum, she said a lot, she has not been together with the dad for like 15 years. I have not been posting anything since about this, I am so exhausted!!!! Been reaching out to the family. Both the dad and mum. This is not the time to talk about the properties of IMOLE Who are those Unreasonable people interviewing the Dad sef ? It's enough pls!! Na ment?
That man is so weak and scared, he is splitting wat he is not supposed to be saying to the public. JUSTICE FOR MOHBAD is important more than anything at this point. Been trying my best on this. The dad and mum must come together as one at this point so we can get justice, papa dey do him one one side, mama dey do her to the dad few minutes ago once again, I have tried my best to settle there differences for now and for the sake of there son and both of them will surely come together at this point. JUSTICE FOR MOHBAD should be the priority At this point, . The both parties will be together very soon and set eyes on each other, I don't want to mention when,( for a very good reason, you should understand) but As soon possible they will and we will fight for this justice together ! You are part of IMOLE demise lasan ! You will not go Scot free !
#JusticeForMohbad you can't k*ll the 💡"
See post below …
@thecuteabiola

If we really want justice, mohbad dad and mum needs to come together to be one on this matter ! . I met the mum, she said a lot, she has not been together with the dad for like 15 years. I have not been posting anything since about this, I am so exhausted!!!! Been reaching out to the family. Both the dad and mum. This is not the time to talk about the properties of IMOLE 💡 Who are those unreasonable people interviewing the Dad sef ? It's enough pls!! Na ment? That man is so weak and scared, he is splitting wat he is not supposed to be saying to the public. JUSTICE FOR MOHBAD is important more than anything at this point. Been trying my best on this. The dad and mum must come together as one at this point so we can get justice, papa dey do him one one side, mama dey do her own . What's that ?????? I spoke to the dad few minutes ago once again, I have tried my best to settle there differences for now and for the sake of there son and both of them will surely come together at this point. JUSTICE FOR MOHBAD should be the priority At this point, . The both parties will be together very soon and set eyes on each other, I don't want to mention when,( for a very good reason, you should understand) but As soon possible they will and we will fight for this justice together ! You are part of IMOLE demise lasan ! You will not go Scot free ! #JusticeForMohbad 😭😭😭😭😭😭 you can't k*ll the 💡