"This is past 11 pm, I should be resting by now" – Nigerian woman with 5 newborn babies laments as her kids refuse to sleep (Video)
A Nigerian mother who recently welcomed 5 babies into the world has openned up about the challenges of parenting her quintuplets in a TikTok video that has garnered attention from concerned netizens.
Chidinma Amaechi, known on TikTok as @chidinmaamaechi34, took to the popular social media platform to share a candid glimpse into her life as a mother of five infants, expressing her exhaustion and seeking assistance from Netizens.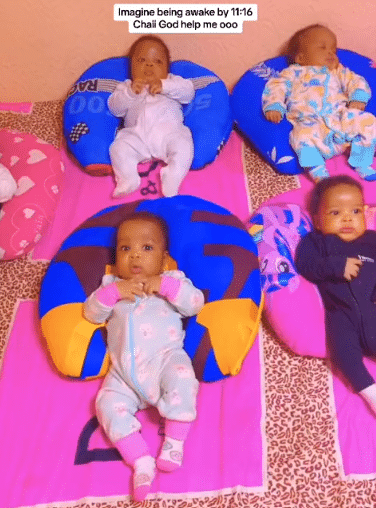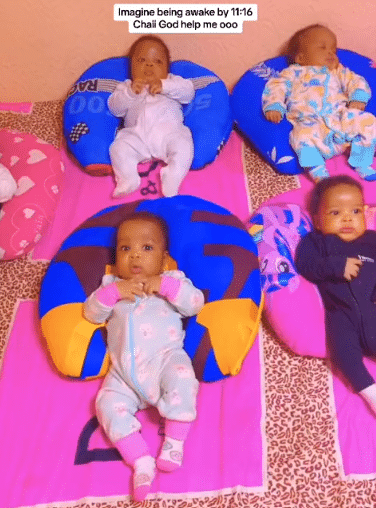 In a video posted some minutes past 11 p.m., Chidinma can be seen surrounded by four of her wide-awake infants, while one appeared to be yawning.
She lamented her fatigue and acknowledged the difficulties of soothing and caring for her restless babies during the late hours.
Chidinma, visibly worn out, explained in the video that her babies were not letting her get the much-needed sleep she desired, but she was determined to rest despite their restlessness.
In a bid to find some solace, she carefully laid her infants on their backs as she spoke to the camera.
One of the infants, captured in the video, appeared to be hungry. Another infant seemed eager to engage in play despite the late hour.
The video quickly gained traction on TikTok, with an outpouring of support and empathy from concerned Nigerians.
Netizens Reactions…
@Nanaa22 said; "I am tired on ur behalf, make una sleep biko these babies."
@funny girl said: "God am seeing ur wonderful work help me to be part of this blessing."
@Rita Osarenmwinda said; "You go play abi u nor go play… may God strengthen u."
@user3211413555562 said; "Fine babies, more blessings, good health I wish you."
@Pearl said: "Omg cuteness overload. How many boys how many girl?"
@Jenny brandy said: "Don't worry a day will come u eat d fruit of your labour dem will make u proud u shall smile at d end your sleepless nights will never been in vain."
See below;