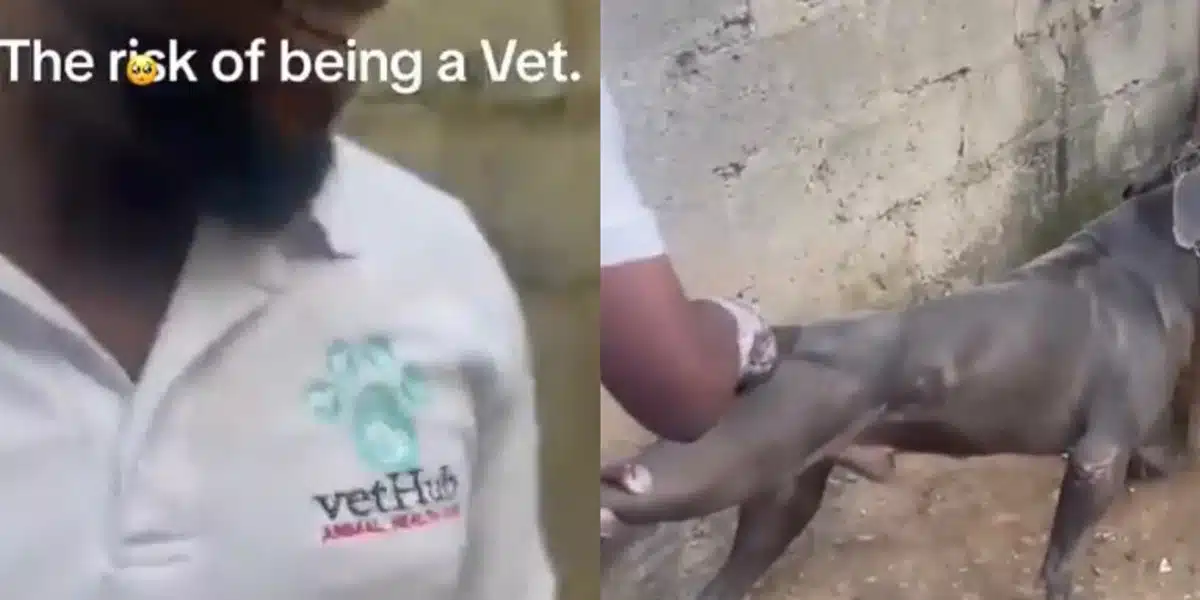 A Veterinary doctor has shared the risk that accompanies his profession after bulldog nearly attacked him.
In the video, the Vet doctor can be seen injecting the animal.
The bulldog starts becoming aggressive after the first injection is administered and the veterinary doctor even tells the dog sorry as soon as he was done.
However, it will seem like his pleas fell on deaf ears as the dog immediately removed himself from the chain binding him to attack the doctor.
The owner of the doctor noticed this and immediately advised the animal doctor to run away from the house while trying to hold the dog back.
Many Netizens have found this video very funny.
See some reactions…
@Justt_Okechukwu reacted: "You No Go Run Ke 😂😂😂😂😂"
@Olawalezee1 said: "Vet no fit enter their gate again 🤣"
@TycoonRazzi said: "I hate when Dog owners can't control their Dogs"
@Damilare wrote: "Occupation wan lead person astray😂😂😂"
@Badgee_Mosh asked: "Why you tell am sorry e ask you 😂😂😂"
Watch video here:
Veterinary doctor pick race 😭😭😭 pic.twitter.com/kf2SKQd57w

— Oyindamola🙄 (@dammiedammie35) November 13, 2023